5 Bedrooms · 12 Guests · 364 sq. m. · Chamonix · France
#Indoor pool #Outdoor hot tub #Sauna #Fireplace Surrounded by breathtaking mountains and nestled in the village of Chamonix Mont-Blanc, the Black Pearl Chalet is ideally located just a few minutes from the Flégère cable car.

This 5* Chalet is a haven of peace that offers its guests a unique and privileged setting with five spacious bedrooms. It can accommodate up to 12 guests.

The Black Pearl Chalet is very well equipped: you will find an indoor wellness area with a swimming pool and a sauna as well as an outdoor hot tub with view over the Mont Blanc, which is perfect to relax after a day in the mountains.

You can combine Black Pearl and Red Fox chalets. They will thus accommodate all your guests with a total capacity of 10 bedrooms for 24 guests.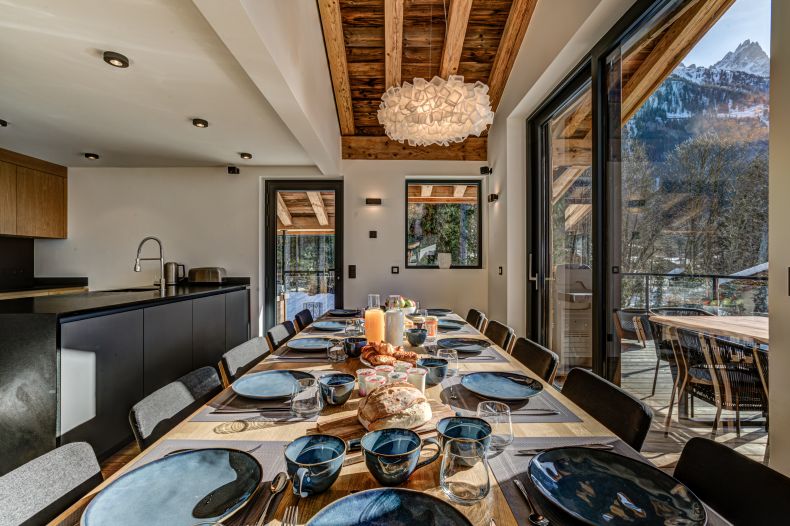 We offers a tailor-made service guaranteed by a team of professionals. Our Chalet Manager is at your disposal to meet your needs during your stay. A chef and a private driver are available on request.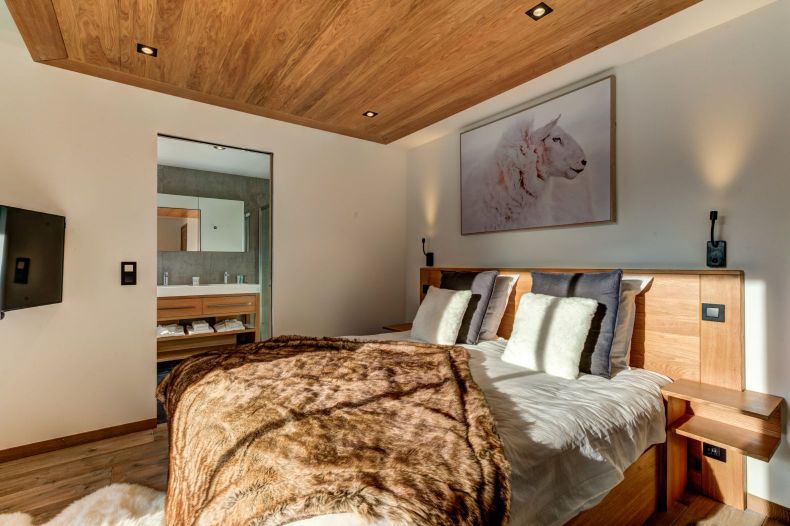 1 Bedroom
Kind-sized double or twin
2 Bedroom
Queen-size double bed
3 Bedroom
King-size double bed
4 Bedroom
King-size double bed
5 Bedroom
Two bunk beds
Sleeps 12
Bedrooms 5
Bathrooms 5
Living area 364
---
Have a question about this chalet?
We'll connect you directly to the chalet host, your contemporary concierge who knows the chalet and can help you plan your entire trip. Chalet host is available in English.
---
Amenities & Services
Facilities
- 5 bedrooms
- Indoor pool
- Outdoor hot tub
- Cinema room
- Sauna
- Fireplace
- Ski room
- Sunny terrace
- Flat Screen TV
- Stereo system
- Barbecue
- Wi-Fi
- Parking
- Available for summer
- Wellness area
- Elevator
Includes
- In-Resort Concierge or Chalet Manager
- Bath robes and slippers
- Bed-linen and towels
- Bath products
- End of stay cleaning
| Arrival - Departure | Days | Standard |
| --- | --- | --- |
| 05 Dec - 12 Dec 2020 | 7 | € 8,820 |
| 12 Dec - 19 Dec 2020 | 7 | € 8,820 |
| 19 Dec - 26 Dec 2020 | 7 | € 16,590 |
| 26 Dec - 02 Jan 2021 | 7 | € 16,998 |
| 02 Jan - 09 Jan 2021 | 7 | Booked |
| 09 Jan - 16 Jan 2021 | 7 | Booked |
| 16 Jan - 23 Jan 2021 | 7 | Booked |
| 23 Jan - 30 Jan 2021 | 7 | Booked |
| 30 Jan - 06 Feb 2021 | 7 | Booked |
| 06 Feb - 13 Feb 2021 | 7 | Booked |
| 13 Feb - 20 Feb 2021 | 7 | Booked |
| 20 Feb - 27 Feb 2021 | 7 | Booked |
| 27 Feb - 06 Mar 2021 | 7 | Booked |
| 06 Mar - 13 Mar 2021 | 7 | Booked |
| 13 Mar - 20 Mar 2021 | 7 | Booked |
| 20 Mar - 27 Mar 2021 | 7 | Booked |
| 27 Mar - 03 Apr 2021 | 7 | Booked |
| 03 Apr - 10 Apr 2021 | 7 | Booked |
| 10 Apr - 17 Apr 2021 | 7 | Booked |
| 17 Apr - 24 Apr 2021 | 7 | Booked |
| 24 Apr - 01 May 2021 | 7 | Booked |
All prices are in Euro. Dates are fixed.
Calendar was updated 5 days ago
Ski lift/slope
1000-3000 m
Centre Chamonix
3000-5000 m
Chamonix Center: 3,5km/6min drive
La Flégère Cable car: 1,3km/2min drive
Chamonix Golf Club: 1,3km/5min drive
La Cabane des Praz Restaurant: 1,3km/4min drive
---
Disclaimer By clicking 'Send message' you are agreeing to our Terms and Conditions and Privacy Policy. We will contact you with Chaletowners special offers and other information. You can opt out at any time. Lion de Montagne Sàrl makes no representations or warranties whatsoever about any of the content of this website or about content of any other website which you may access by hypertext link through this website. The information shown here is provided by representative of this chalet. Lion de Montagne Sàrl accepts no responsibility for the accuracy or otherwise of this information. All holiday details on this site including property descriptions, travel information and prices should be considered as indicative only. You should verify the accuracy of any information that you intend to rely on with chalet representative prior to booking your stay.